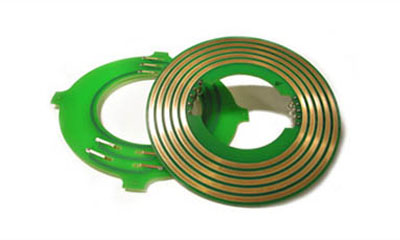 Pancake slip ring is designed for the limited rotation system in height direction, which is a special kind of conductive slip ring actually. Its shape just like a platter and always design and structure is flat, so sometimes it could be named flat slip ring and platter slip ring. The rotor part of pan cake slip ring with use of coils of concentric ring to carry current signal, the brush distributes at the top of the concentric ring as the stator. Whereas, use insulation materials to insulate between ring and ring. As we know that, this flat disc electrical slip ring could accept comprehensive load, large and huge instruction size, also it enjoys the features of compact design, sensitive rotary, easy installation and maintenance.

If you have specific customized requirement, please feel free to consult us so that our sales engineer could recommend the most suitable product to you for you reference.
Specifications:
Specification
Circuits
5 circuits @ 2A, 2 circuits @ 10A
Work Speed
50RPM max
Work Temperature
-20℃-+60℃
Work Humidity
60%RH or higher
Voltage Rating
380VAC/DC
Through Hole Size
80mm
Dielectric Strength
1000VAC@50Hz between each circuit
Electrical Noise
1mΩ Min
Contact Materials
Precious Metal
Lead Wire Size
AWG28&AWG17 Teflon® UL
Lead Wire Length
Standard 300mm
Housing Materials
Aluminum Alloy
Design
Separate PCB
Protection
IP54
Features:
The thickness could be up to 5mm as per demand.
Power and various signal combination.
Smooth operation and reliable performance.
Low work speed and low electrical noise.
Compact structure & maintenance free.
Options:
Separate PCB design or solid design could be optional.
Different materials ( contact materials and housing materials ).
Dimension.
Circuits & Current & Voltage.
Lead wire size and length.
Work speed.
Installation method as per request.
Applications:
Lifting transport machinery.
Heavy engineering machinery.
Mining equipment.
Construction machinery.
Port equipment.
Wind turbine generator.
Medical machine.
Radar & Missile launcher.