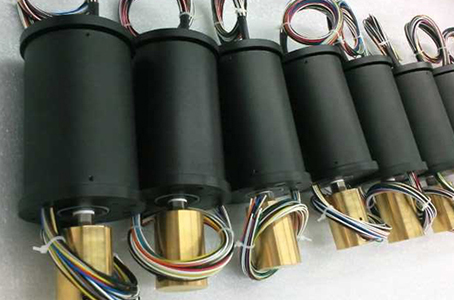 For example, electrical slip ring could combine with liquid or gas slip ring, Barlin Times has enjoyed above 10 years experience in producing and designing hybrid slip ring ( Liquid or gas with electrical slip ring ) which obtained highly welcome from the end user in different industries. Support 1/2/4 gas or liquid channel and customize gas or liquid or tube size as per special demand to transfer water, hot water, cool liquid and vapour such media. Through bore or solid body could be optional. Below model was Barlin Times designed for one of the user in automation application before.
Main features:
Adopt advanced brush contact technology and compact design.
Transmit power and Ethernet signal, two air channels.
Reliable after sales service and longer life performance time.
Metal housing and shaft, low torque & noise
Pressure could be up to above 100Mbps.
Combination with gas channel and electrical part.
The specification of THR-000T-0420-01S-2G:
Electrical Part
Rating Circuits
4 circuits @ 20A, 8 circuits for Ethernet signal
Rating Voltage
230VAC
Work Speed
0-30rpm
Work Temperature
-20℃~+80℃
Work Humidity
60%RH
Insulation Resistance
500Mohm @ 500VDC
Electrical Noise
Max 70mohm @ 6VDC, 50mA (50rpm )
Lead Wire Length
300mm lead wire on both sides
Lead Wire Size
AWG12 Teflon UL, 8 core Ethernet cable
Contact Materials
Silver to silver
IP Degree
IP54
Housing Materials
Precious Metal
Gas Part
Channels
2 channels for gas
Work Pressure
100Mbps
Tube Size
2 inch
Barlin Times will be your best choice for rotating solution. More other technical details, the engineer must can help you to answer or solve all the problems that you asked. Barlin Times are waiting for your early contact.