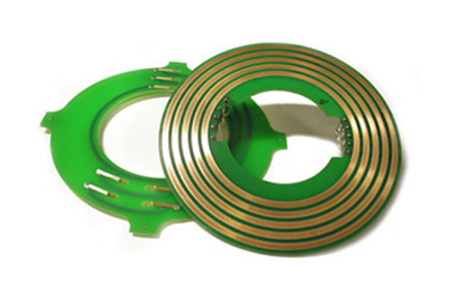 Compared with normal conductive slip ring, the important instruction pattern of pancake slip ring has four contact ball types:
The double row angular contact thrust ball pancake slip ring.
Interspersed with cylindrical roller pancake slip ring.
Interspersed with conical roller pancake slip ring.
Three rows of cylindrical roller pancake slip ring.
According to belt teeth gear spreading area, it can be divided into: no tooth, outer tooth or inner tooth and different structure. The four-point contact ball pancake slip ring has high static bearing ability, interspersed with cylindrical roller pancake slip ring has higher dynamic load ability. Pancake slip ring can be exerted load bearing rigidity and progress through the rotation accuracy, and three rows of cylindrical roller pancake slip ring can increase the height and load bearing ability of slip ring. Therefore, under the same stress conditions, the slip ring diameter can be greatly reduced.

Pancake slip ring could bear larger axial load, radial load and comprehensive load bearing, also concentrate on rotating, transmission, fix and other functions in one of the special structure of large slip ring. Under the normal situation, the pancake slip ring that produced by Barlin Times has mounting holes, lubricating oil and sealing device, which could satisfy all kinds of demand in different working condition. From the another hand, pancake slip ring itself has compact structure, convenient installation guide and easy maintenance etc. This type of slip ring is mainly used in lifting transport machinery, mining equipment, construction machinery, port machinery, wind turbine generator, medical machine, radar, missile launcher and other larger rotary devices.
Pancake slip ring has the following obvious characteristics:
The overall dimensions diameter of 400-1000mm, the max would be around 5000mm.
Higher bearing which can accept axial load, radial load and tilting moment load.
Low work speed of 10r/min and do not have continuous rotating in a few situations.
Pancake slip ring with a installation hole could use screw to tighten on the upper and lower bearings.
No pivot in the inner ring or outer ring with a rotating drive gear.
With a smooth oil hole and seal installation.
The pancake slip ring of Barlin Times normally used in some heavy machinery applications and obtained highly welcome from many different industries. Barlin Times are awaiting for your friendly co-operations in the near future.