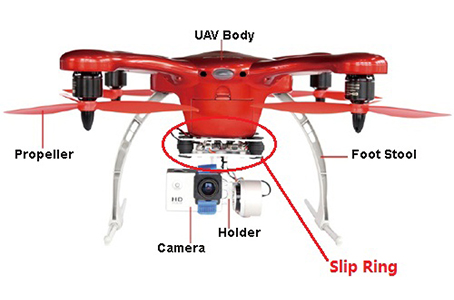 UAV has extensive application including border patrol, mapping, aerial photography, environmental assessment, geological survey, agriculture plant and so on. However slipring plays an increasingly significant role in the UAV application, which need this rotary joint to transmit current and signal under 360 unrestrained rotation.

Barlin Times as a slip rings manufacture and supplier, it has above 10 years with abundant experience in producing and designing sliprings and enjoys a high reputation at home and board. Barlin Times slip rings have been widely used in UAV such as ultra miniature capsule slip ring-8mm diameter series, miniature capsule slip ring 12.5mm diameter series, separate slip rings and so forth.
Standard product models for your reference:
Features For UAV Slip Rings:
Gold to gold contact materials guarantee long life time.
Light, small size and compact design.
Low price and high mobility.
Good flexibility and 360 degree unrestrained rotation.
Good flexibility and 360 degree unrestrained rotation.
Convenient to assembly.
Now, Barlin Times is making its best efforts to design and research to new types of slip ring to meet various demands in different fields. If you have any requirement or technical question about Barlin Times slip ring, just feel free to contact with us-www.barlintimes.com, so that our professional sales engineers can recommend or customize suitable types for you.

Barlin Times