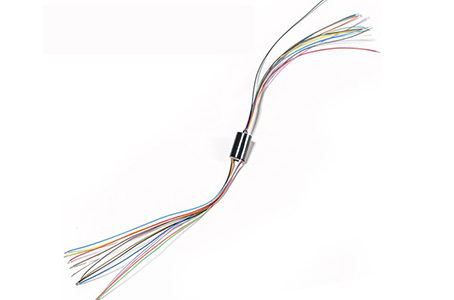 The structure of slip ring that could be mainly divided into three different categories, namely, capsule slip ring, through hole slip ring and pancake slip ring.
What is capsule slip ring? Just as the name suggests, it means the shape looks like a cap. Therefore it is called capsule slip rings by people in the industry. It could completely meet continuous transmission of signal and/or power under 360 degree unrestrained rotation from a stationary part to a rotary part, especially suit for small and medium size equipment to transmit weak signal.
The basic technical parameters of capsule type slip rings are outer diameter, inner diameter, circuits, current, operating speed, protection degree and so on. Capsule sliprings of Barlin Times have several different series according to the diameter. The diameter could be in divided into 8.5mm, 12.5mm, 15.5mm, 18mm, 22mm, 35mm and so on. It has the main features of compact design, low noise and resistance, smooth operation, maintenance free, gold to gold contact materials and longer life time. Also it adopts advanced standard military degree surface processing technology to meet the demand of every customer. Our small slip rings structure can use with or without flange design are optional.
This slip ring is extensively used in various fields like UAV, CCTV, robotics, medical equipment, rotary table, smaller wind turbine, packing equipment, test machine, etc. As we all know, the market capacity of capsule slip ring is very large, which is suitable for mass production and processing.
The capsule slip ring of Barlin Times enjoys superior quality, favorable price and obtains great welcome from domestic and foreign customers. We could also customize slip ring for you as per your special requirements. Barlin Times are looking forward to your friendly co-operations in the near future.