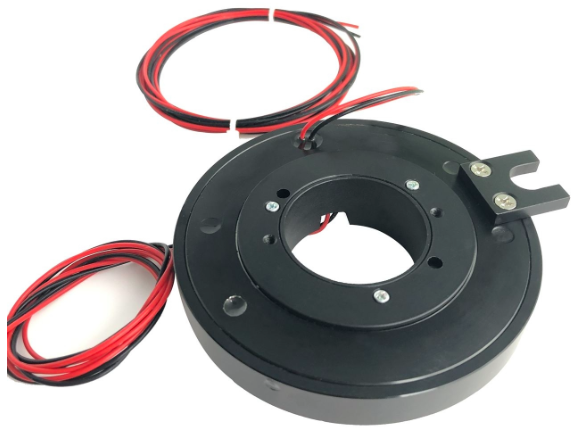 With the innovation of technology and improvement of people's living standards, packaging becomes an increasingly indispensable part in people's life. Packaging machine is an equipment that could complete all or part stages of the packaging process.

Packaging machines have advantages such as could greatly improve the working efficiency, reduce labor costs associated and protect workers from certain products that do harm to health, which satisfy the demands of mass production and clean sanitation in the packaging process through the use of automation. As we all know, slip ring as a rotary joint, which plays a significant role in the application of packing machine. Generally speaking, through hole slip ring is an economical and perfect solution to packaging machine.

We, Barlin Times have designed through hole slip ring series with various inner diameter (12.7mm-190mm) and corresponding outside diameter could fully meet the needs of customers in such application. The standard circuits are 6 rings, 12 rings, 18 rings and 24 rings are available. Through bore slip ring of Barlin Times applies the best advanced fiber brush technology and precious metal multi-contacting, which enjoys the main feature of low wear, low noise, low contact pressure, long work life time, maintenance free and so on.


| | |
| --- | --- |
| Circuits | 1-24 Circuits |
| Work Speed | 0-500RPM |
| Work Temperature | -20C~+60C |
| Work Humidity | 60%RH or higher |
| Voltage Rating | 380VAC/DC |
| Current Rating | 2A/5A/10A/15A per circuit |
| Dielectric Strength | ≥1000VAC@50Hz between each circuit |
| Insulation Resistance | 1000Mohm@500VDC |
| Electrical Noise | 1mohm Min |
| Contact Materials | Precious metal |
| Lead Wire Size | Teflon UL |
| Lead Wire Length | Standard 300mm |
| Housing Materials | Aluminum alloy |
| IP Degree | IP54 or higher |
Barlin Times as a professional slip ring manufacturer, our hollow shaft slip ring acquires a great welcome from many customers at home and abroad. Looking forwarded to your cooperation in the near future.

Barlin Times